The Bounty Hunter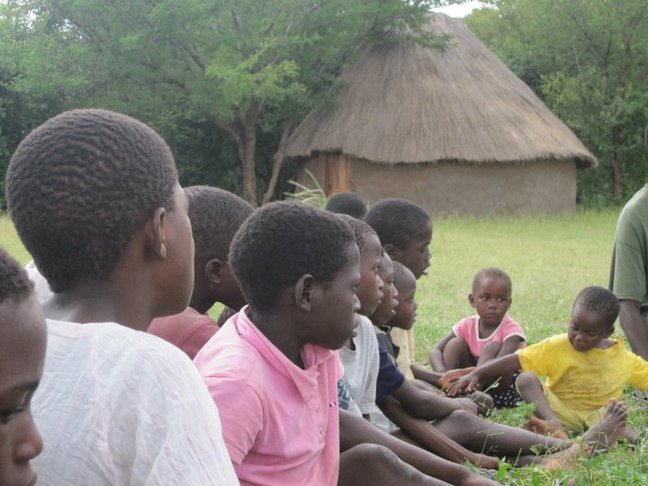 The Bounty Hunter
"You are a good boy, Danny." I haven't heard that for quite some years! But there it was again – "You are a good by, Danny" Then a third time.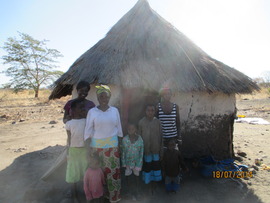 I was just trying to listen to the Spirit: my assignment was to be a Bounty Hunter this morning – walk to Siamate Village early Sat morn and try to find Mutenta – an 9 year old girl who just became sponsored and yet for the last weeks has not come to our Saturday tutoring and skills class. Gonna bring that girl in, dead or alive! While in Siamate I learned that Mutenta had recently moved – went to live with her dad in the next village, Sugar. Dead or alive, this would not defeat me.
Then I saw those two poor women hacking at the tree. These are two in our Siamate DBS (Discovery Bible Study). Compassion welled up. Both single moms with zero income, multiple kids from miscellaneous fathers – it just seems to be the village way – even in desperate poverty that keeps one weak with hunger all the time, when a man comes along, even for a night or an occasional night – I don't know how it works – but he is not refused. Kids spring up without fathers….
This lady is handicapped – mentally simple, one leg quite a bit longer than the other, and she cocks her head to the side to look at you sideways. But what a charming laugh and smile! And her spirit! – she has always been a favorite of mine. And though I can never remember her name, she has named two of her children for us – one Regina, and one Dan. This lady actually had a husband who died just a couple months ago – AIDS – he died in the car while our team was trying to transport him to the hospital!
I talked to them for a moment. But no time for compassion today – Bounty Hunter! I walked on.
Then the Spirit reminded me of my pledge in the morning: "Lord, I will follow YOU today – I will see you at work and join you." Ok Jesus – what are you saying to me? Compassion wells up again. I turn around and take the ax and attack the tree while I hear the lovely singsong voice cheering me on – "You are a good boy Danny!"
After I take the log to their fire I settle down in the Father's plan. Detour! The mother of Mutenta has done the typical village thing – telling me she desires her daughter to be sponsored but doing the exact opposite – sending her to live with her dad in another village. Ok Father, what's Plan B? Oh? Ok. So I gather up the two 9 year old girls from these two women – who just recently started pre-school – and they will take Mutenta's place. The mothers and the girls are excited. The scraps of clothes they have on are quickly replaced with other cleaner scraps, and off we go.
Bounty Hunter Mission accomplished!
INTERNS
We have just had a swath of great interns. Kelsey and Morgan arrived the week that Regina and I returned from the States. And a German girl who happened to come to the village one time with our team simply fell in love with our village experience – it's not uncommon – and stayed for another 6 weeks! So the three of them were just in time to kick off our Family Table sponsorship program. They did the deep plowing – finding the sponsored children, interviewing them and guardians, measuring, talking to the schools, delivering the food, buying uniforms, shoes, backpacks, evaluating the educational level of each child for the tutoring class…. Fun stuff. Falling in love stuff. Hearts were melted in love during these days.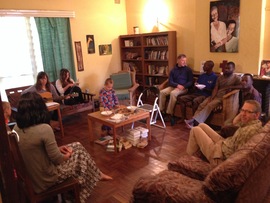 Then Allison arrived 3 weeks later and joined the scrum. She is in teacher training school – so she took over the tutoring program. Another took over the Life Skills program.
Then 2 weeks later Sarah and Michelle arrived – Sarah to shoot a new Love's Door movie, and Michelle to join the fight for the lives of these kids.
What a wonderful 2 months this has been. Each one with their unique gift to add to the stew.
TEAM
We have had a number of World Race teams over the last months. Fun and refreshing.
Now we have a small team from Manitoba and North Dakota. A wonderful family with 3 small kids – what a treat; and two church leaders. What these 6 lack in size, they make up for in impact. They are owning this ministry in every detail. Cleo is teaching our Zambian workers about spiritual warfare – last night there were about 10 or more around the campfire. Russ is walking to distant villages for church planting with our guys. Danielle and Stephen and their kids are investing in the House of Moses kids and mamas.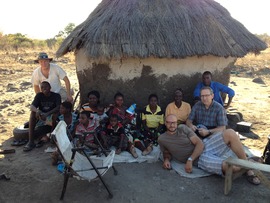 There is something Divine about caring for the poor and the orphan and the utterly lost who are so close to The Center of That Great Heart. We continually get feedback from long past interns or teams how they are still advocating before God and man for us.
LUANSHYA
Nothing new there – the church still grows at a wonderful pace. Please continue to pray with us for provision to build a ministry center before rainy season in December. We are also praying for Aaron to be able to start a taxi business to become more self sustainable.
BUILDING
All these teams and interns has reinforced the hunger for a real kitchen on our southern base. Well, it's up! And beautifully done in record time. These interlocking bricks really work!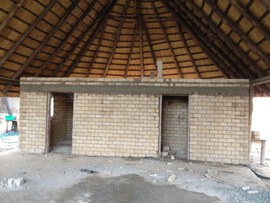 The teams have also brought some much needed labor support for Dan! The staff house is looking beautiful with new paint and plumbing – even a toilet and shower indoors!!! One more week before this team leaves. I think I'll sabotage their plane tickets!
FAMILY TABLE
We are beginning to see the dream taking form. A community of kids is starting to come regularly. They are starting to learn. Kids are getting back in school. Love of God is starting to find open hearts to receive.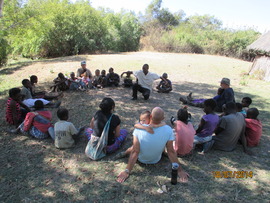 One day these kids will be the shining example of health and progress for these villages. More and more sponsors are signing up. Pray that hundreds of kids will be sponsored and learning and growing in God, prayed for by loving families.
ACCIDENT
The day I was trying to load this blog online came "The Accident". I was left in the hospital for a couple days and incapacitated at home for another while. It is nearly a week now. I thank God for His Hand – stopping the truck at the final few inches which would have made a difference between severe impairment and only temporary. I thank God for our Prayer Team – some are praying for us daily, others upon request. I thank God for a good wife and long term team who surrounded me with care and love and grace to slowly recuperate. I thank God for my kids who sent pictures of Grandkids and their own lives when I was discouraged.
OPPORTUNITIES
Sponsor a child. Change a life. Touch your own family with the life you bring around your Family Table.
We need two 1 year interns to invest in Family Table sponsorship.
We need one 6-12 month intern to manage micro-business development with the poor.
We need a couple or family for base host – to love and serve the staff, the interns, the people coming and going. Especially during the time Bumsteads are in the States – Oct – Nov.
Speaking of…. We will be in the States Oct and Nov. If you would like to invite us to your church or group let us know asap…  
---