First Day in the Village
8 AM – The rest of the team had preceded me to the village as I had to stay in town to catch up on some urgent emails and issues with reconnecting our phones and such…. So I got up and had my devotions, forgot breakfast, and was off to deliver parts to fix our Nissan 4×4 truck, etc.
9 AM – I was waiting at Team House in town for the taxi to come and take me to village where I found that the electricity was off there as well as the water. It was rather hot and humid this morning. Stanley is there and I talk with him for 2 hours while waiting. Stanley has been a Zambian church planter with us for 2+ years, and now he is married and living in the village. He needs encouragement to keep serving God fully while trying for the first time to have a full time job and support his family. He has been struggling with being faithful in going to the villages where he had planted bible studies due to his added responsibilities. I encourage him that he is now in the best position to be a leader in the villages. He has now incarnated himself into their villages, has become one of them, and now can speak with power and empathy like none of us from the "outside" can.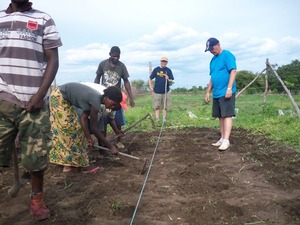 1 PM – I walk around the base with Chris Cornwell, an agriculturalist who has come for 2 months to help us make our base effective and profitable in our gardens and animal businesses. He is first tackling the gardens and training two village grounds workers in conservation farming principles as we lay out raised beds and other "new" methods for them. Later he is formulating a feasibility study of a possible cooking oil production business where the villagers could grow sunflowers and sell them to us, and we produce oil which we sell in town. Producing an industry in the village where any willing worker could raise a cash crop would be huge for the area! And to create a money making business would be huge for us– less dependence on outside funding…
3 PM – I went around Singanga village, our host village, to greet old friends. Headman is in his garden. We will meet up at his house at 6. I greet his aged mother to show her honor. She is caring for a teen orphan who asks about being put on the Family Table Sponsorship program so he can continue in school. I take his picture, hear his family story and will put him on the list. Next I see several friends – all early 20's – sitting in a circle by the river drinking crude village beer. I go and sit with them for a time, ask about their families, encourage them to seek God and find a better life, and pray a welcomed prayer over them. I walk on and find two of those men's wives with their new babies – I pray over them. Next I see Martha (name changed out of respect), a widow with 3 young kids, and sit at her house for a while. She shows me her house which has fallen down in the recent storms. She is such a hard worker, and while I can see the affects of HIV on her skin tone, she still defies all the odds. She has cleared all the sticks and mud from the old house and has already dug new holes for the new poles to go. The new poles are already cut down and laying in a pile. She wants K500 ($50) to pay a builder. Next I find a young couple with a young baby whom I have not seen yet. I sit and talk with them. When they were first married we had talked about doing a marriage class together, but it never worked out. They were eager to try again – Saturday mornings 10am. He told me he's not working, but willing to do whatever I want (I hear this from most young men). I ask how they eat when not working as the wife is there cleaning some leaves she got in the bush for supper. Usually the greens would just be a "relish" to go with their "Nshima" – corn mush, which is the staple. But because of the drought there is no corn this year. So when he is not working they have no money to buy the corn mush, and instead they have just eat the leaves for their food. I pray a blessing over them and resolve to try to find some work for the boy.
6:30 PM – It is dark by the time I return and all have already eaten dinner, but they have saved a plate for me. I shovel it down and go to my little room by the river. I take my 3rd shower of the day, change clothes and head over to the Children's Home. It's movie night! Friday night is usually movie night which is led by my wife, with everyone huddled around her laptop in the living room. Since it was Good Friday, they had a sweet reenactment of the story of Jesus' death and it's meaning for us all. So Saturday now is movie night. Where the Red Fern Grows is the one set for tonight. After the movie finishes everyone is sad, but they come and give me hugs and snuggles before heading to bed. I love those kids!
9 PM – It's so nice now to have electric (solar) lights in every room which has revolutionized our camp! So we sit in bed and recount the day's events, mosquito net down, watching a TV episode on our computer for chill time before reading and falling asleep.
Sunday
4:30 AM – Oh I have missed the sound of those birds! It is sweet music in my ears. Totally African sound to these birds – nothing like it.
5:30 AM – There is nothing like sitting on the bank of the river watching the sun come up, worshiping Jesus. Some fishermen in their dugout boats, standing up and paddling as is their custom. No hippos in sight, as the water is high and flowing briskly. I have to go over to the island on the bridge, because already the water is high.
9 AM – There is nothing like our African church! At 8:30 all the children and mamas from our House of Moses are there in their Easter clothes, singing softly together. But the lead elder (a young man of 25) who is supposed to lead the meeting does not come until 9:10 (I will need to talk to him about this again!). He comes with a friend and stands up to call us to intercession. All begin praying softly. Then one of the house mamas leads the singing, and we dance and laugh and then sing the quiet adoration songs. All the kids are involved. People are gradually coming even up until 9:45. We focus on the Good News of Jesus' sacrificial death today, and at the end I ask if I can challenge the group with a response. What did you learn today? Then, who wants to put your faith in Jesus' blood to wash your sins and give you new life today? Many hands go up, and we all gather around and pray for one another. It's glorious. Then we all break into two's (our normal ending to a service or bible study) and, after a slight pause to consider, we ask one another, "What will you do this week in obedience to what we learned today?"
11:30 AM – We then pack up and head back to town until we return next Wed.
PRAYER NEEDS
We are leading our first Church Planting Training – expecting 30-40 participants from South Africa, Zimbabwe, Malawi and all around Zambia. It goes on for 3 full weeks – all day and into the evening! Our houses are all jammed with people on the floor. We have 5 from our Luanshya Base and 12 from out Livingstone base. I am so encouraged that these men and women, who are already sacrificially planting seed for the gospel in their villages, will now receive a quality 3 week training about our mission of catalyzing church planting movements in the most neglected places we can find. Our first day is today. Pray that this will be a powerful time for all.
Our community school on our northern base that started over a year ago is still operating on a volunteer basis – with 5 teachers now instead of the two that started. We would like to equip them to excel. We want to provide books for the kids (unheard of in village Zambian schools), salaries for the teachers (now they are all volunteering), good chalk boards, seats for the kids to sit on (they all sit on the cement floor now), and good curriculum (they now are using some 2nd hand educational books we brought up to them a year ago). If you want to invest in this I ask you to donate to "Luanshya Village School Project". (http://lovesdoor.wpengine.com/give/).
We are blessed with a great team of westerners this year – most of them coming for a year, and some considering long term. We are believing God for some radical forward momentum in our villages this year. We want to expand our tutoring program to be a full time after school program with Zambian helpers who will become the leaders. Pray that we will receive some large donations or grants to make this project a reality. We also need much more housing for couples on the base as we will have 3 couples and a family of 4 at the same time, as they test the waters to see if they are called long term. So building small staff cottages is important for the couples. Pray for wisdom and financial outpouring.
Pray that we can become successful businessmen at the same time as we love and transform the villages. Our desire is to be less dependent on Western funds – so we are trying by all means to make some successful businesses. This takes dedication and determination – and money to build well. With this amount of workers, we hope this year can be the year of success for our businesses.
And we want to thank all of you supporters and prayer warriors who have stood with us thru such a hard year. We are trusting God for a New Day. The workers are coming. Pray for the finances and the Hand of God on our business…
Continue to pray for Floyd McClung – our father and leader. He is still in critical condition, after more than a month in medical crisis. He is in a state of stupor – he is trying to wake up after a month of medical intervention and 2 heart attacks, a collapsed lung and many other issues. Pray the Father will lift him up.
---